KNT 10th Anniversary Gift
As a special gift for the Pizza cat's fans, Ian Burry has made a desktop clock for Windows (sorry Mac people) based on the Princess Vi clock seen in "The Cheese Who Stole Christmas". I helped too! = ) You can see and download it at Ian's page. (http://members.aol.com/iburry/home.html

) Samurai Pizza Cats MP3s
Looking for a high quality MP3 of the Pizza Cats theme song? You can find it along with lots of other cartoon/anime and game themes at http://www.bigmog.com/index.php3?main=mp3_dl.html
Thanks, Garamir, for finding this. This MP3 will only be up for a limited time, since the page only keeps it's MP3s up for 2 weeks, and there's only a few days left, so if you'll ever want it, better get it now.

Look for the "Samurai Pizza Cats: Rave" at http://www.edoropolis.org/spc-atc/
It's a cool MP3 made by NEO. It takes a while to download (nothing new if you've downloaded MP3 music before), but it's worth it. Last time I checked, the link to the zipped file didn't work, but the rave is up at www.edoropolis.org/spc-atc/SPC-Rave_v1.mp3, and there's a Real Audio version on the page too.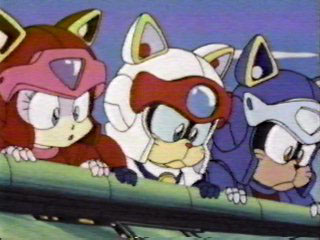 SPC/KNT 2000 Project
The SPC/KNT 2000 Project's goal is to provide a well organized forum for many fans to cooperate together in activities that will keep interest in the series going, spread awareness of the show, and most of all, stay in the spirit of the series by being fun! Most of you are already familiar with the outstanding calendar that features art work by SPC fans. Other projects include a "Chain story" where fans each write a part of a story which will be continued by the next person, and, a "Yearbook" that will allow people to list their own SPC inspired characters that they have created for fan fic, fan art, or as online avatars. (http://members.xoom.com/bibingka/calendar/index.html)

Fan Fic writers
Where do you send your stories if you don't have a web page of your own? (Or even if you do and you want to share your work)
"The Guido Page" used to be the main depository for all SPC fan fics, but sadly this page is no longer active.

Tsimsiean's Pizza Cat's Page http://members.xoom.com/Tsimsiean
This page will include stories by other people, so you can send your story there.

Samurai Pizza Cats 2000 http://members.xoom.com/spc2k/main.htm
This page also wants people to send in SPC stories.

Guardian's Home http://www.geocities.com/Area51/Saturn/3665
seeking SPC and other fan fics

Also, check out the SPC/KNT 2000 project for your chance to participate in the Fanfic Story Chain. (http://www.geocities.com/Tokyo/Island/1496/ffschain.htm). 14 writers are needed. You don't need to be an expert, it's all for fun.

Francine Puzzle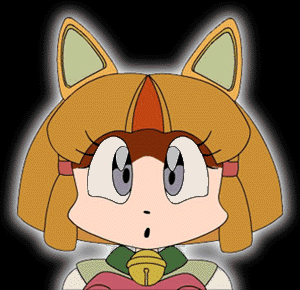 Ian Burry has updated the already fun Francine Puzzle on his web page. Check it out sometime, I've found it to be a lot of fun when there's nothing to do on line. See if you can beat my score of 51. (http://members.aol.com/iburry/home.html)

Feeling Artistic?
There's still time to design an outfit for Francine for her contest (http://otama.cjb.net). The first and second place outfits will be awarded with SPC goodies from the SPC Shop, most of the entries will be included in the up coming Francine KiSS set (unless 2 are too much alike). You can also visit and see what outfits other people have entered so far.
If that's too hard for you, try Project Feline (http://www.stormloader.com/profeline/) for SPC "paint by numbers" that you can print out and color, or use your computer graphics program.

Pizza Cats Dojin
The first English language Pizza Cats Dojin (fan made book) is currently in production. Comic book type stories and art in black and white are wanted for the book. Artists who send in work that is used in the book will get a copy when the book is printed.
Contact Shep0815@aol.com if you are interested in taking part.

Links
Samurai Pizza Cat Fan Page (SPC Toys!) Moved:
http://members.xoom.com/powerdome/pizzacats.htm

Guido A's Page
http://www.geocities.com/Tokyo/Harbor/4159/

Polly Ester's Shrine
http://www.edoropolis.org/spcpolly/index.html

Featured Character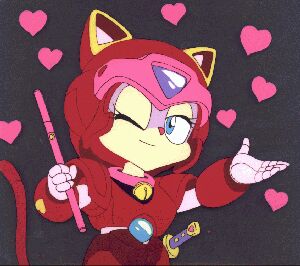 Polly Ester
English name: Polly Ester (has also been spelled "Esther") AKA "Old Halibut Breath" in "Pizza Bird Delivers"
Japanese name: Pururun (A purring sound)
Height: 130 cm Weight: 35 kg (from Japanese fan book "Usa-Tama-Puru-Mitsu")
Eyes: Blue Hair: Red
Weapons: Claws, short sword, heart bombs, heart darts, frying pans.
She can do a special attack using her sword and flute. In KNT it's called the "Heart Breaker".
She also has "Passion Paw Power" which allows her to hypnotically lure her foes to her by beckoning with her paws.
Polly sometimes takes the controls of the Catatonic, with help from Guido

Polly is certainly the most popular of the Pizza Cats with fans of the show. She turns up in fan art more than any other character.
She has the first line of any of the cats in the series "Do we serve shrimps? Of course we do!"
Polly is half of the singing duo: the "Pointless Sisters", with her friend Lucille. And she plays the flute too! Polly has a strange crush on Garfield (The cat in a popular American comic strip), her flute is signed by him (In the English version).
More devoted to duty than he male companions, Polly often has to get aggressive with Speedy & Guido to get them to do their work when they'd rather goof off. This can sometimes result is a severe frying pan bashing.
Polly believes love can conquer all, but uses violence anyway. When angry, she is capable of feats of great strength.
Much has been speculated about Polly's relationship with Speedy. But it's not until the end of the series that Polly and Speedy show any real emotional attachment to each other any more than as friends and team mates. Polly does get irritated earlier in the series when Speedy would be spending his time trying to flirt with Lucille, but she would be equally as irritated with Guido for the same things. Not that Polly doesn't care about Speedy before the Great Comet Caper, she always worries when Speedy is in trouble, but I think she'd have been equally concerned if Guido or Francine were in trouble. It's just that Speedy gets in trouble more often.
As far as family goes, we know Polly has a brother since she says she once threw mud at him.(Samurai Savings Time)
Polly is the only Pizza Cat to ever take off her helmet. (Excluding Francine, who doesn't wear one)

This Month's Picture
A nice picture of the cats to celebrate their 10 year anniversary. Cat Ninden Teyande first aired in Japan in February 1990.

Until Next Time
This is the first time in a few months that I didn't put off doing the newsletter until the last minute. It's nice to not be behind in my work! SPCPolly can't be online so much anymore, so I may be looking for a new assistant writer. Should be someone who is a real SPC fanatic, and has decent writing skills. Of course, anyone can help with the newsletter any time by sending in an article.
Happy Valentine's Day!
-Violet