Pizza Cat Fan gathering in Canada
Pzario will be at the Canadian National Anime convention on August 27-29 in Toronto, Ontario, and would like to get together with other Pizza Cats fans who might attend the convention.
The convention is $25 Canadian for all 3 days, and that also gives you access to a comic book convention and a sci-fi convention that are going on there at the same time.
For more information about the convention, visit the CN Anime homepage at
http://hobbystar.com/cnanime/
If you are interested in meeting other SPC fans while you're there, contact Pzario at pzario@superaje.com.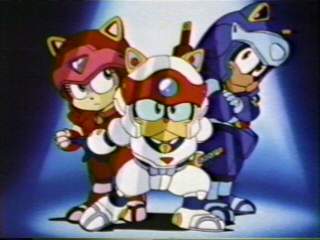 Pizza Cats Web Calendar
There's a project being put together to make a Pizza Cats calendar for the last few months of this year as well as for next year. The art for the calendar will be all done by fans. And you don't have to be a good artist to take part (although some of SPC fandom's best fan artists will be included), you just got to be a fan and be willing to take the time to draw. They even let me do one, and I'm no artist. For more info, visit the SPC 2000 page at
http://www.geocities.com/Tokyo/Island/1496/calendar.htm

Pizza Cats Facts
Mama-San & Junior have only missed one Pizza Cats launch. In Mission to Manhattan they are not around for the launch (the camera even looks around for them). They do however get a chance to make their usual comments as the cats fly over them in Hawaii, where they are on vacation.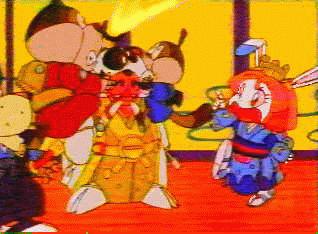 Links
The Samurai Pizza Cats Homepage has moved. This is the oldest Pizza Cats web page known (there may have been KNT webpages in Japan before, but this is the first SPC page)
http://www.two4u.com/pizzacats/

Lucille's Not Yet Exploding Samurai Pizza Cats Home Page (the 4th oldest SPC page by the way), has had a lot of work done on it recently, so have a look.
http://www.geocities.com/Tokyo/8026/index.html

The Pizza Cats Fan Club Oath (in Spanish)
by Qbeto
DAMAS Y CABALLEROS, EL JURAMENTO DEL CLUB DE ADMIRADORES DE LOS GATOS
SAMURAI
Los gatos son samurai, y me gustaria decir(Big Cheese)
que sus asañas los dejaran sin aliento(Jerry)
COMO UNA BOLA DE PELOS EN LA GARGANTA(Big Cheese)
Nosotros somos de una raza especial, nunca nos hemos retirado(Speedy)
Siempre que Quesote nos quiera derribar(Guido)
Nosotros caemos de pie,MUA!(Polly)
ASI QUE VICTOREEN A LOS GATOS SAMURAI, HAGAN SONAR SU CASCABEL AUNQUE ESTEN
MUERTOS DE MIEDO,SABEMOS QUE LUCHARAN COMO ¡GATOS SAMURAI!(NARRATOR)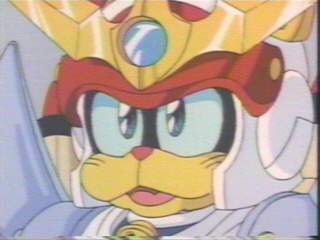 Featured Character
Speedy
(Thanks to everyone who sent in Speedy info!)
Speedy Cerviche Speedy Cerviche (the spelling of Speedy's last name has
been the subject of great debate, this spelling was confirmed
by Andrew Thomas, producer of the English version of SPC,
although he has also spelled it "Ceviche" at times. If you are
using either of these spelling, you're right. Other "official"
spellings include "Cevichi", used on the SPC toy packaging,
and "Service", used in the Saban comic book.)
Japanese name: Yattaro (Yatta = A challenge + taro = common Japanese name ending)
Height (KNT): 174 cm (4' 4")
Height (SPC): 3'8½" (From "Mission to Manhattan") or 3' ("Candid Kitties")
Weight (KNT): 29 kg (66lbs)
Weight (SPC): 30lbs
Leader of Pizza Cats/Nyankee, waiter/deliverer for the Pizza Cat.

Weapons: throwing stars and swords (The Ginzu and Blinky). The Magical Ginzu Sword can do everything, but take out the garbage and end a land war in Asia. His best attack is the "Cat's Eye Slash".
In KNT his sword is named "Masamasa".
The ears on Speedy's helmet are detachable, and can be used as "bugs", to listen in on conversations.

Likes: Lucille, (later Polly), Clint Eastwood, personal hygiene
Dislikes: Being stomped into the ground, Disco, temperamental women, "Top Gun", UFOs

Speedy is also one of the show's more emotional characters. We frequently see him depressed, or crying out of genuine hurt. He holds a lot of feelings inside him that we just don't see in many other characters.

Took Home economics classes, majored in recess.
Speedy's mother wanted him to become a certified public accountant. (The Pizza Cats are Only Human, part 2) His Uncle Irving studies Nuclear reactors, and it's sometimes claimed one of his uncle writes for the show.

Speedy is forgetful (forgot how to swim in "Emperor Fred Does Hard Time")
In KNT, Yattaro has an amazing ability to mimic
another person's voice.(See KNT:Samurai Singing Sensation)
Broke the world record for standing on his tail (Singing Samurai Sensation)

The narrator says that was Speedy's first kiss was when he landed on Big Cheese, accidentally kissing him. (From Candid Kitty)
Speedy wears the same size of clothing that Lucille's brother, Wally does. (Speedy's Double Time Trick)
Speedy has a jacuzzi at home. (Mission in Manhattan)

Speedy's is the only SPC "transformation" sequence that we ever see.

The only time Speedy ever actually makes it inside the Catatonic Robot is during "The Big Comet Caper".

Speedy has had more near-death experiences than anyone else on the show. He's been severely injured in "Bad Bird Uncaged" and "Gone with the Ginzu", fell off a cliff in "The Terror of Prisoner Island", and was nearly blown up in "The Big Comet Caper".

Polly's Little Voting Pagoda
By Polly
There is a new little thing going on at Polly Ester's Shrine. ( http://www.edoropolis.org/spcpolly/index.html). It is called Polly's Little Voting Pagoda where every month there is a different Poll about SPC/KNT. It's interesting ones too. Like last Month when it first came out, it was "Who is your fave Pizza Cat" and Francine won followed by Polly in second. This month's Poll is "Who do you think would go to the insane asylum first?" Polly is in the lead followed by Princess Vi. But it could change. It's going on till the August 6, so get those votes in. You can vote more then once, I don't care. Just have fun. ^^
As a side note, some of the frequent visitors to my page may have noticed the updates aren't as fast as before. I haven't been able to have as much time as I would like. But don't worry. there is one coming soon with at least 15 new Ask. Ms. Ester Questions, and a little surprise in my Music section. As well as maybe a new FanFic and 2 new Polly Fan Art pics. But hey, good things come to those who wait but still, sorry for the delay. I'll pick my butt back up ASAP. That's a SPC Promise ::cheesy grin::
(The Poll is still a bit new, so it's not linked up to the webpage yet, use the link below)

This month's picture
Fran and the Catatonic, the bottom says "Choudendou Power ON!" (Super-conductivity Power ON!)

Bye!
Thanks for reading this month's newsletter, we hope you enjoyed it.
We'll be back next month for our 20th issue!
Be sure to go vote at www.freevote.com/booth/pollyester.
-Vi & Polly